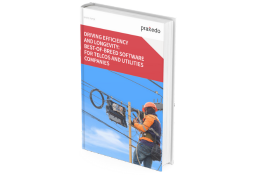 Whitepaper
Driving efficiency and longevity: Best-of-breed software for telcos and utilities
What's Inside?
These next few years are critical for operations managers at utilities and telecommunications companies. There's more work to be done than there are people to do the job — which means that everyone is under pressure to get more done with greater efficiency.
It's important for operations teams to choose software that adapts to people processes. To help guide your decision-making, Praxedo has teamed up with John Ragsdale, Distinguished Researcher and Vice President of Technology Ecosystems at Technology Services Industry Association (TSIA), to share practical recommendations for implementing new Field Service Management solutions.
Ragsdale's expertise is in assisting enterprise technology firms with the
selection and value realization of tools and platforms, with a constant
focus on the customer experience. He maintains a clear, on-the-ground
perspective into the practical business realities that service organizations
are navigating.